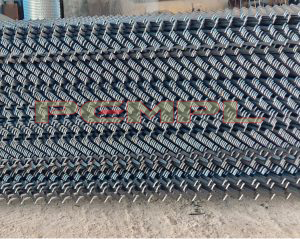 Diamond pattern mesh is a typical term for expanded metal mesh. It is made by a machine that develops. This machine converts solid metal sheets into expanded mesh through a pressurised stretching and slitting operation. Because the expanded metal mesh is made from a single sheet, nothing can fall loose. Because of this, it is excellent for shaping and model creation. These Expanded Metal Mesh are made from solid metal sheets such as mild steel, galvanised iron, stainless steel, and aluminium. Expanded metal mesh provides a substantially greater strength-to-weight ratio than conventional sheet metal, making it excellent for walkways and other similar applications. Its age is enhanced if galvanised. 
As reputable Expanded Metal Mesh Manufacturers in India, USA, Canada and UK, we have gained a widespread reputation in the market. We are giving forth superior quality items that are beneficial in various applications. Our factory is where we manufacture our whole product line. Our facility is fully equipped with cutting-edge machinery and technology, enabling us to provide items with custom specs.
Clients that want to place large orders can get in touch with us. We can meet your requirements within the time limit you have set, thanks to our sophisticated facilities and professional crew. As reputable Expanded Steel Mesh Suppliers, we provide our products at reasonable prices.
Country Offices
Usa Office : 
100 Duffy Avenue, Hicksville,
New York 11801
Canada Office:
7030 Woodbine Avenue,
Markham, Ontario L3r 6g2
London Office:
Fleet Street,
London, Ec4a 2ab, Gbr,
107-111 Fleet Street, London,
Greater London
Australlia Office: 
Level 45/680 George St,
Haymarket Nsw 2000,
Sydney, Australia.