Building Facade gyrates the overall appearance of the building most astonishingly, as it is the most imposing style that delivers stunning and striking and bestows several conveniences. And for all of this, selecting top-tier facade manufacturers is critical for long-term durability and essential quality. And in this regard, PEMPL offers the finest and is the leading Building Facade Manufacturer in India, the United Kingdom, the United States, and Canada.
You may transform the appearance of the building in the most spectacular way by using the distinctive, sophisticated, and astonishing possibilities of the facade. The outside appearance of a business or any structure finally gives a proposal for the interiors.
Several styles to pick from will make the structure quite extraordinary. You can go modern, rustic, sophisticated, creative, conventional, or traditional.
Going with PEMPL, Leading Building Facade Manufactures in India, the USA, UK, Canada, and Australia, will give you a fascinating facade style that has never been seen before with excellent quality. This will turn every head, and its intimidating aura is super-ravishing, impressing everyone.
And the most important factor is quality, which is why we at Martin's Furniture are the finest in the business at providing you with exceptional facade materials. The following are some of the benefits you will receive by working with us:
A group of skilled producers.
Excellent quality and durability.
A variety of facade designs are available.
We have an extensive network.
Services are reasonably priced.
Our company provides a variety of facade designs.
The facades will be of the highest quality and endurance.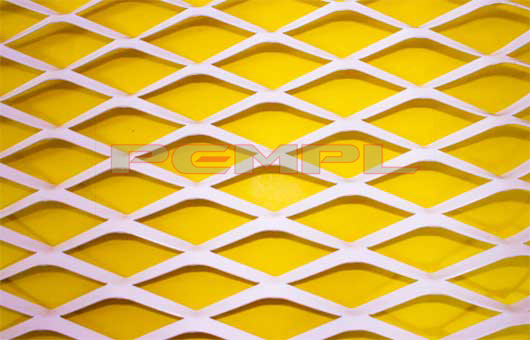 | | |
| --- | --- |
| MARK NO. | PEMPL – 01 |
| MATERIAL ALUMINIUM ALLOY USA (AA) / INDIAN STD | 1200 / 19000 |
| THICKNESS (mm) | 1.5 / 2 |
| SWM (mm) | 40 |
| LWM (mm) | 105 |
| STRAND (mm) | 10 |
| COVERAGE  (%) | 50 |
| OPENING (%) | 50 |
| Weight of Mesh per Square Feet of 1.5 mm  (KGS) | 0.186 |
| Weight of Mesh per Square Feet of 2 mm (KGS) | 0.248 |
| MESH TYPE | DIAMOND |
TECHNICAL DETAILS
| | |
| --- | --- |
| MARK NO. | PEMPL – 02 |
| MATERIAL ALUMINIUM ALLOY USA (AA) / INDIAN STD | 1200 / 19000 |
| THICKNESS (mm) | 1.5 / 2 |
| SWM (mm) | 37 |
| LWM (mm) | 77 |
| STRAND (mm) | 9.3 |
| COVERAGE (%) | 80 |
| OPENING (%) | 50 |
| Weight of Mesh per Square Feet of 1.5 mm (KGS) | 0.19 |
| Weight of Mesh per Square Feet of 2 mm (KGS) | 0.253 |
| MESH TYPE | DIAMOND |
 TECHNICAL DETAILS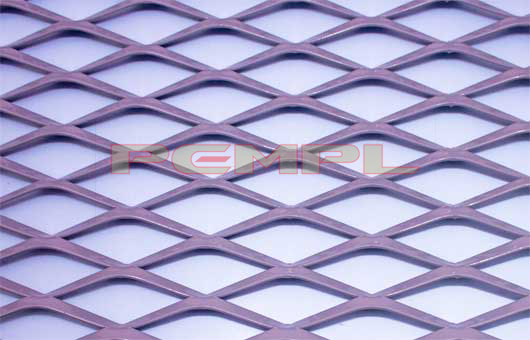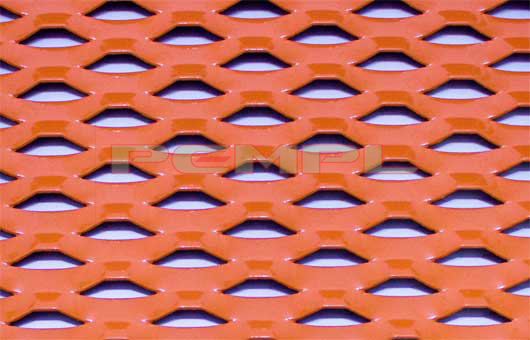 | | |
| --- | --- |
| MARK NO. | PEMPL – 03 |
| MATERIAL ALUMINIUM ALLOY USA (AA) / INDIAN STD | 1200 / 19000 |
| THICKNESS (mm) | 1.5 / 2 |
| SWM (mm) | 21 |
| LWM (mm) | 43 |
| STRAND (mm) | 9.3 |
| COVERAGE (%) | 89 |
| OPENING (%) | 11 |
| Weight of Mesh per Square Feet of 1.5 mm (KGS) | 0.38 |
| Weight of Mesh per Square Feet of 2 mm (KGS) | 0.507 |
| MESH TYPE | PYRAMID |
Technical Details
| | |
| --- | --- |
| MARK NO. | PEMPL – 04 |
| MATERIAL ALUMINIUM ALLOY USA (AA) / INDIAN STD | 1200 / 19000 |
| THICKNESS (mm) | 1.5 / 2 |
| SWM (mm) | 53 |
| LWM (mm) | 163 |
| STRAND (mm) | 14 |
| COVERAGE (%) | 53 |
| OPENING (%) | 47 |
| Weight of Mesh per Square Feet of 1.5 mm (KGS) | 0.2 |
| Weight of Mesh per Square Feet of 2 mm (KGS) | 0.267 |
| MESH TYPE | DIAMOND |
TECHNICAL DETAILS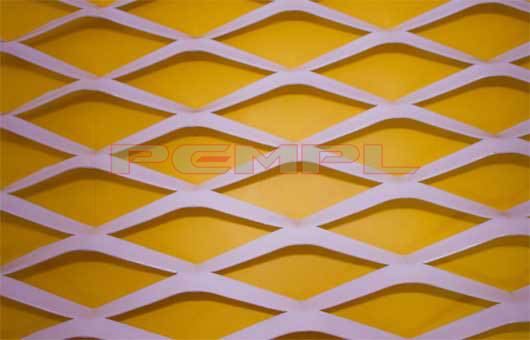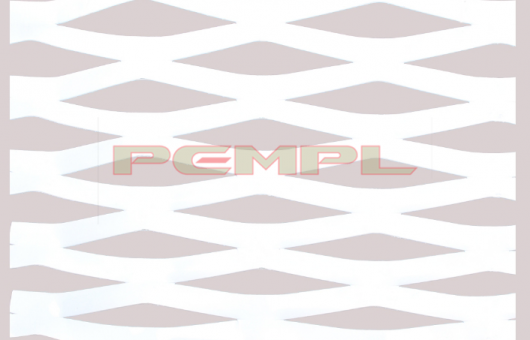 | | |
| --- | --- |
| PEMPL MARK NO. | 5 |
| ALUMINIUM ALLOY | US(AA):1200/IS: 19000 |
| SWM | 60 mm |
| LWM | 194mm |
| STRAND | 22.5 mm |
| WEIGHT  PER SQ. FT OF 2mm THK | 0.38 KGS |
| WEIGHT  PER SQ. FT OF 1.5 mm THK | N.A. |
| OPEN AREA OF MESH | 25% |
| COVERING AREA OF MESH | 75% |
| AVAILABLE WIDTH | 1220 TO 1525 mm |
| AVAILABLE LENGTH | 2400 TO 4000 mm |
TECHNICAL DETAILS
| | |
| --- | --- |
| PEMPL MARK NO. | 5A |
| ALUMINIUM ALLOY | US(AA):1200/IS: 19000 |
| SWM | 65 mm |
| LWM | 194 mm |
| STRAND | 20.4 mm |
| WEIGHT  PER SQ. FT OF 2mm THK | 0.32 KGS |
| WEIGHT  PER SQ. FT OF 1.5 mm THK | N.A. |
| OPEN AREA OF MESH | 37% |
| COVERING AREA OF MESH | 63% |
| AVAILABLE WIDTH | 1220 TO 1525 mm |
| AVAILABLE LENGTH | 2400 TO 4000 mm |
TECHNICAL DETAILS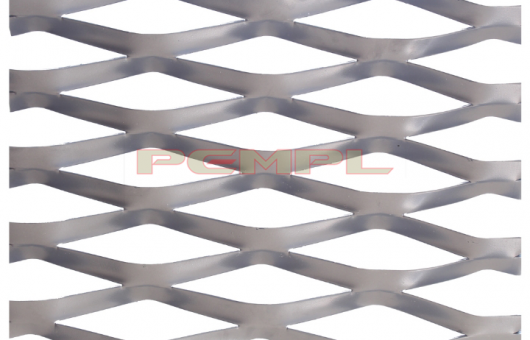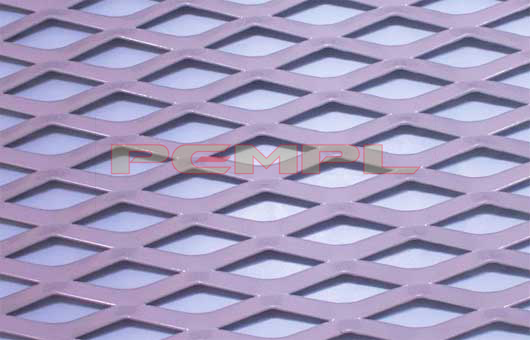 | | |
| --- | --- |
| MARK NO. | PEMPL – 06 |
| MATERIAL ALUMINIUM ALLOY USA (AA) / INDIAN STD | 1200 / 19000 |
| THICKNESS (mm) | 1.5 / 2 |
| SWM (mm) | 24 |
| LWM (mm) | 63 |
| STRAND (mm) | 8 |
| COVERAGE (%) | 76 |
| OPENING (%) | 33 |
| Weight of Mesh per Square Feet of 1.5 mm (KGS) | 0.252 |
| Weight of Mesh per Square Feet of 2 mm (KGS) | 0.336 |
| MESH TYPE | DIAMOND |
Technical Details
| | |
| --- | --- |
| PEMPL MARK NO. | 7 |
| ALUMINIUM ALLOY | US(AA):1200/IS: 19000 |
| SWM | 13 mm |
| LWM | 39 mm |
| STRAND | 2.2 mm |
| WEIGHT  PER SQ. FT OF 2mm THK | 0.17 KGS |
| WEIGHT  PER SQ. FT OF 1.5 mm THK | 0.13 KGS |
| OPEN AREA OF MESH | 66% |
| COVERING AREA OF MESH | 34% |
| AVAILABLE WIDTH | 1220 TO 1525 mm |
| AVAILABLE LENGTH | 2400 TO 4000 mm |
Technical Details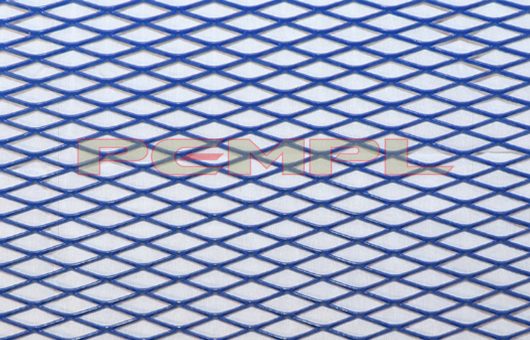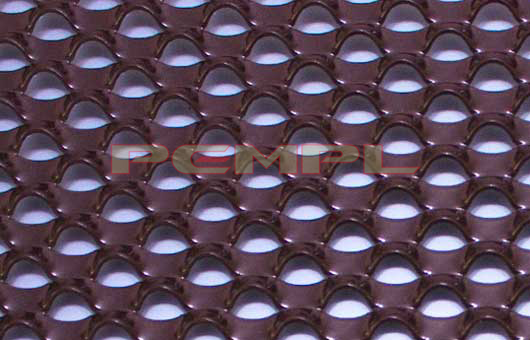 | | |
| --- | --- |
| MARK NO. | PEMPL – 09 |
| MATERIAL ALUMINIUM ALLOY USA (AA) / INDIAN STD | 1200 / 19000 |
| THICKNESS (mm) | 1.5 / 2 |
| SWM (mm) | 17 |
| LWM (mm) | 25 |
| STRAND (mm) | 6.6 |
| COVERAGE (%) | 78 |
| OPENING (%) | 22 |
| Weight of Mesh per Square Feet of 1.5 mm (KGS) | 0.507 |
| Weight of Mesh per Square Feet of 2 mm (KGS) | 0.38 |
| MESH TYPE | 1/2 MOON |
Technical Details
| | |
| --- | --- |
| MARK NO. | PEMPL – 10 |
| MATERIAL ALUMINIUM ALLOY USA (AA) / INDIAN STD | 1200 / 19000 |
| THICKNESS (mm) | 1.5 / 2 |
| SWM (mm) | 12 |
| LWM (mm) | 36 |
| STRAND (mm) | 5.5 |
| COVERAGE (%) | 92 |
| OPENING (%) | 8 |
| Weight of Mesh per Square Feet of 1.5 mm (KGS) | 0.35 |
| Weight of Mesh per Square Feet of 2 mm (KGS) | 0.467 |
| MESH TYPE | LOUVER |
Technical Details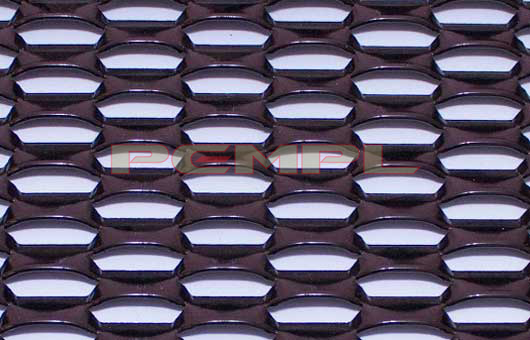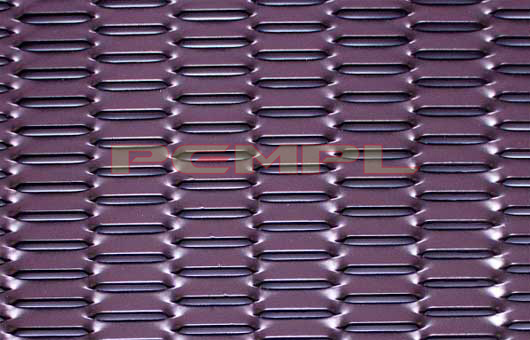 | | |
| --- | --- |
| MARK NO. | PEMPL – 11 |
| MATERIAL ALUMINIUM ALLOY USA (AA) / INDIAN STD | 1200 / 19000 |
| THICKNESS (mm) | 1.5 / 2 |
| SWM (mm) | 7.5 |
| LWM (mm) | 45 |
| STRAND (mm) | 3.8 |
| COVERAGE (%) | 101 |
| OPENING (%) | -1 |
| Weight of Mesh per Square Feet of 1.5 mm (KGS) | 0.511 |
| Weight of Mesh per Square Feet of 2 mm (KGS) | 0.383 |
| MESH TYPE | LOUVER |
Technical Details
| | |
| --- | --- |
| PEMPL MARK NO. | 12 |
| ALUMINIUM ALLOY | US(AA):1200/IS: 19000 |
| SWM | 14 mm |
| LWM | 25 mm |
| STRAND | 2.2 mm |
| WEIGHT  PER SQ. FT OF 2mm THK | 0.16 KGS |
| WEIGHT  PER SQ. FT OF 1.5 mm THK | 0.12 KGS |
| OPEN AREA OF MESH | 69% |
| COVERING AREA OF MESH | 31% |
| AVAILABLE WIDTH | 1220 TO 1525 mm |
| AVAILABLE LENGTH | 2400 TO 4000 mm |
Technical Details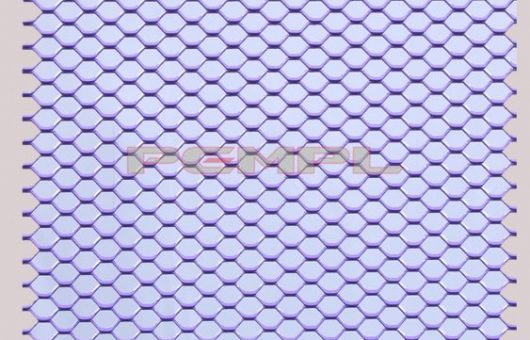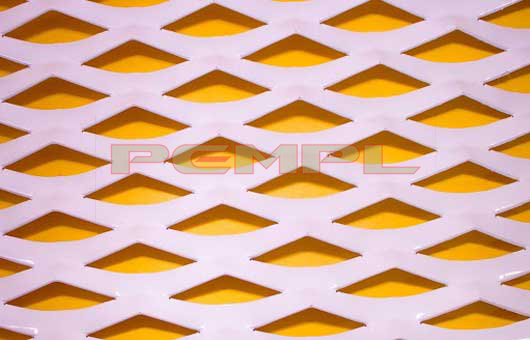 | | |
| --- | --- |
| MARK NO. | PEMPL – 14 |
| MATERIAL ALUMINIUM ALLOY USA (AA) / INDIAN STD | 1200 / 19000 |
| THICKNESS (mm) | 1.5 / 2 |
| SWM (mm) | 37 |
| LWM (mm) | 77 |
| STRAND (mm) | 12.5 |
| COVERAGE (%) | 68 |
| OPENING (%) | 32 |
| Weight of Mesh per Square Feet of 1.5 mm (KGS) | 0.255 |
| Weight of Mesh per Square Feet of 2 mm (KGS) | 0.34 |
| MESH TYPE | DIAMOND |
Technical Details
| | |
| --- | --- |
| MARK NO. | PEMPL – 15 |
| MATERIAL ALUMINIUM ALLOY USA (AA) / INDIAN STD | 1200 / 19000 |
| THICKNESS (mm) | 1.5 / 2 |
| SWM (mm) | 37 |
| LWM (mm) | 196 |
| STRAND (mm) | 15 |
| COVERAGE (%) | 81 |
| OPENING (%) | 19 |
| Weight of Mesh per Square Feet of 1.5 mm (KGS) | 0.307 |
| Weight of Mesh per Square Feet of 2 mm (KGS) | 0.409 |
| MESH TYPE | LOUVER |
Technical Details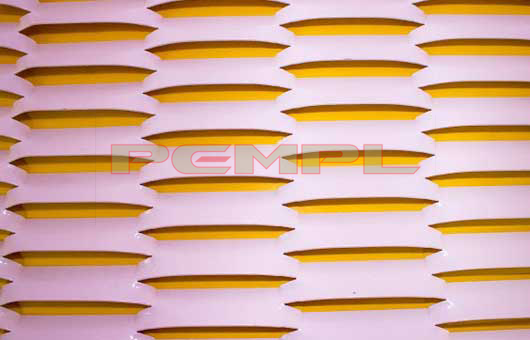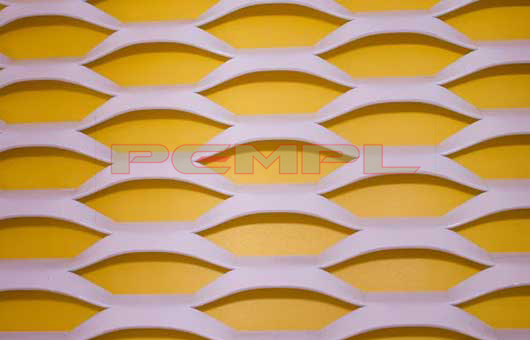 | | |
| --- | --- |
| MARK NO. | PEMPL – 16 |
| MATERIAL ALUMINIUM ALLOY USA (AA) / INDIAN STD | 1200 / 19000 |
| THICKNESS (mm) | 1.5 / 2 |
| SWM (mm) | 35 |
| LWM (mm) | 115.5 |
| STRAND (mm) | 10.7 |
| COVERAGE (%) | 61 |
| OPENING (%) | 39 |
| Weight of Mesh per Square Feet of 1.5 mm (KGS) | 0.232 |
| Weight of Mesh per Square Feet of 2 mm (KGS) | 0.309 |
| MESH TYPE | LONG HEX |
Technical Details
| | |
| --- | --- |
| MARK NO. | PEMPL – 17 |
| MATERIAL ALUMINIUM ALLOY USA (AA) / INDIAN STD | 1200 / 19000 |
| THICKNESS (mm) | 1.5 / 2 |
| SWM (mm) | 13 |
| LWM (mm) | 50.4 |
| STRAND (mm) | 2.8 |
| COVERAGE (%) | 43 |
| OPENING (%) | 53 |
| Weight of Mesh per Square Feet of 1.5 mm (KGS) | 0.219 |
| Weight of Mesh per Square Feet of 2 mm (KGS) | 0.164 |
| MESH TYPE | LONG HEX |
Technical Details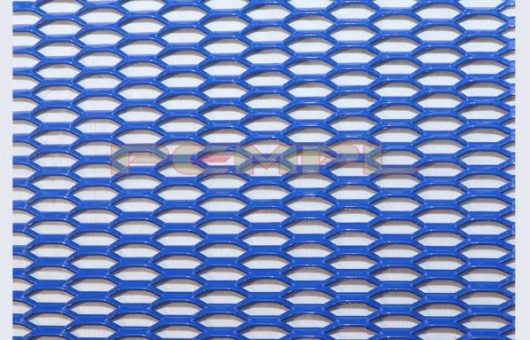 | | |
| --- | --- |
| PEMPL MARK NO. | 17A |
| ALUMINIUM ALLOY | US(AA):1200/IS: 19000 |
| SWM | 13 mm |
| LWM | 50.4 mm |
| STRAND | 4.2 mm |
| WEIGHT  PER SQ. FT OF 2mm THK | 0.33 KGS |
| WEIGHT  PER SQ. FT OF 1.5 mm THK | 0.25 KGS |
| OPEN AREA OF MESH | 35% |
| COVERING AREA OF MESH | 65% |
| AVAILABLE WIDTH | 1220 TO 1525 mm |
| AVAILABLE LENGTH | 2400 TO 4000 mm |
Technical Details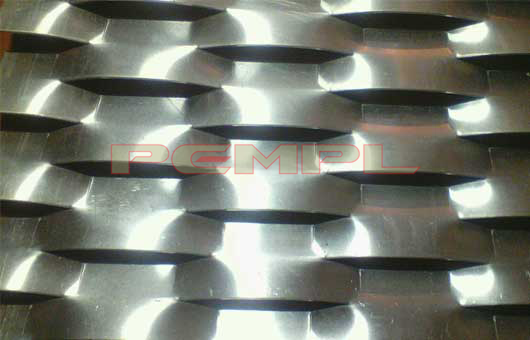 | | |
| --- | --- |
| MARK NO. | PEMPL – 25 |
| MATERIAL ALUMINIUM ALLOY USA (AA) / INDIAN STD | 1200 / 19000 |
| THICKNESS (mm) | 1.5 / 2 |
| SWM (mm) | 51.5 |
| LWM (mm) | 161 |
| STRAND (mm) | 24 |
| COVERAGE (%) | 93 |
| OPENING (%) | 7 |
| Weight of Mesh per Square Feet of 1.5 mm (KGS) | 0.353 |
| Weight of Mesh per Square Feet of 2 mm (KGS) | 0.471 |
| MESH TYPE | LONG HEX |
Technical Details
| | |
| --- | --- |
| PEMPL MARK NO. | 25 |
| ALUMINIUM ALLOY | US(AA):1200/IS: 19000 |
| SWM | 51.5 mm |
| LWM | 161 mm |
| STRAND | 24 |
| WEIGHT  PER SQ. FT OF 2mm THK | 0.47 KGS |
| WEIGHT  PER SQ. FT OF 1.5 mm THK | N.A. |
| OPEN AREA OF MESH | 7% |
| COVERING AREA OF MESH | 93% |
| AVAILABLE WIDTH | 1220 TO 1525 mm |
| AVAILABLE LENGTH | 2400 TO 4000 mm |
Technical Details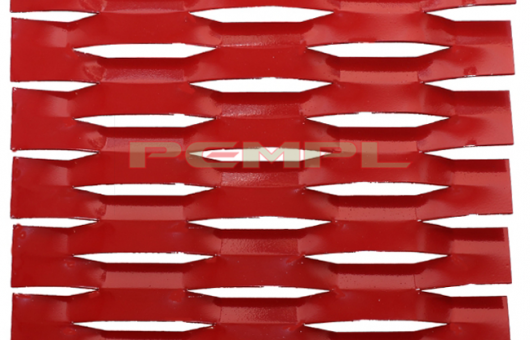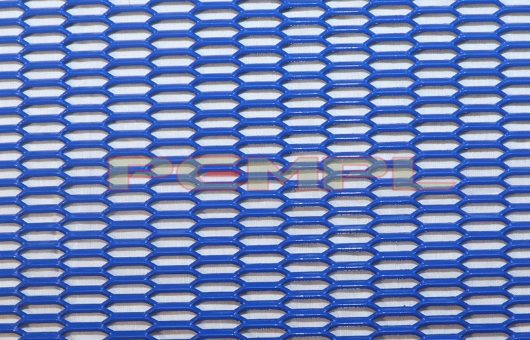 | | |
| --- | --- |
| PEMPL MARK NO. | 28 |
| ALUMINIUM ALLOY | US(AA):1200/IS: 19000 |
| SWM | 9.3 mm |
| LWM | 46 mm |
| STRAND | 2.8 mm |
| WEIGHT  PER SQ. FT OF 2mm THK | 0.30 KGS |
| WEIGHT  PER SQ. FT OF 1.5 mm THK | N.A. |
| OPEN AREA OF MESH | 40% |
| COVERING AREA OF MESH | 60% |
| AVAILABLE WIDTH | 1220 TO 1525 mm |
| AVAILABLE LENGTH | 2400 TO 4000 mm |
Technical Details
| | |
| --- | --- |
| PEMPL MARK NO. | 29 |
| ALUMINIUM ALLOY | US(AA):1200/IS: 19000 |
| SWM | 49.3 mm |
| LWM | 115 mm |
| STRAND | 18.5 mm |
| WEIGHT  PER SQ. FT OF 2mm THK | 0.38 KGS |
| WEIGHT  PER SQ. FT OF 1.5 mm THK | N.A. |
| OPEN AREA OF MESH | 25% |
| COVERING AREA OF MESH | 75% |
| AVAILABLE WIDTH | 1220 TO 1525 mm |
| AVAILABLE LENGTH | 2400 TO 4000 mm |
Technical Details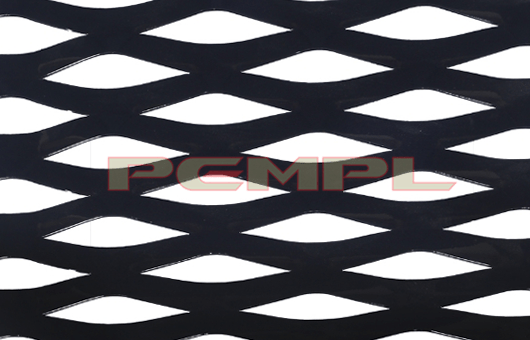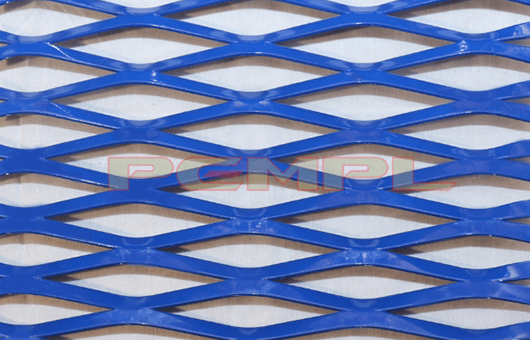 | | |
| --- | --- |
| PEMPL MARK NO. | 30 |
| ALUMINIUM ALLOY | US(AA):1200/IS: 19000 |
| SWM | 35 mm |
| LWM | 130 mm |
| STRAND | 10.5 mm |
| WEIGHT  PER SQ. FT OF 2mm THK | 0.3 KGS |
| WEIGHT  PER SQ. FT OF 1.5 mm THK | 0.23 KGS |
| OPEN AREA OF MESH | 40% |
| COVERING AREA OF MESH | 60% |
| AVAILABLE WIDTH | 1220 TO 1525 mm |
| AVAILABLE LENGTH | 2400 TO 4000 mm |
Technical Details