It's no secret that sealed packaging is essential when it comes to manufacturing and supply-related items. There are several reasons why this is the case. Businesses need to ensure that the things they offer have a tight-fitting cap. It makes them safe to eat.
When packaging items, an induction sealer is often used. Here, we'll take a closer look at the induction sealing method and its advantages.
How does the induction seal process work?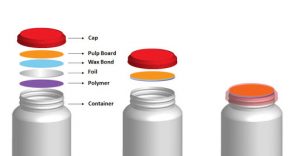 It is also known as cap sealing. Material-filled containers with foil-lined caps travel through an induction sealer. As containers travel through the sealer, energy from a regulated electromagnetic field is transferred to the containers.
As a result of this energy transfer, heat is generated on the aluminium foil liner. After then, the foil lining material melts due to the heat. Upon cooling, the liner forms an airtight seal around the container. In this way, the product is protected from contamination and leaking. Falsification and manipulation provide extra protection.
Benefits of induction sealing
The following are just a few of the benefits of this new technology:
When a product is still fresh, it's safe to eat. As a result of the induction sealing process, the product is protected against contamination by external agents. Product durability and longevity are also improved.
If products are not correctly sealed, they may leak or deteriorate during shipment. Because they are closed, they are leak-proof. A seal on items also helps buyers realize that the product has not been tampered with in any way.
Product packaging is typically subject to strict regulations set by regulatory agencies. It is possible to obtain tamper-resistant seals using induction sealing.
An induction seal gives consumers peace of mind by assuring them that the product fulfills quality specifications. It immediately contributes to client satisfaction and helps to enhance it over time.
Induction sealers produce electromagnetic induction. The transmission's speed and frequency allow for rapid sealing, which leads to quicker manufacturing.
What products can an induction machine seal?
It is possible to seal nearly any type of product in the cosmetics, pharmaceutical, beauty care, and FMCG industries using an induction sealing machine Plastic or glass containers do not matter. All of them may be filled using the sealing machine.
The same technique may be used to seal liquids, cold foods, and dry goods. Lubricant oils, drinks, plants, powders, and much more are examples.
How to choose the right container and liner materials?
When choosing an induction liner, factors such as application and material must be taken into account. The liner is often made up of one or two pieces. The one-piece construction is laminated with foil. After the cap has been sealed, the liner is taken from it.
During two-piece construction, there is an additional pulpboard and wax layers. During the induction heating process, wax is melted and absorbed into the pulpboard. This layer of pulpboard allows for easier resealing after the foil liner has been removed from the bag.
Get your induction sealing machine today with R Technologies (Induction Cap Sealing Machine)
R Technologies is a prominent provider of sealing systems for over four decades. We have a selection of induction sealing equipment that may meet your various demands. When it comes to boosting your business, there is no better place to go than here for trustworthy and cost-effective options. To receive a FREE quote on our machines, contact us now.